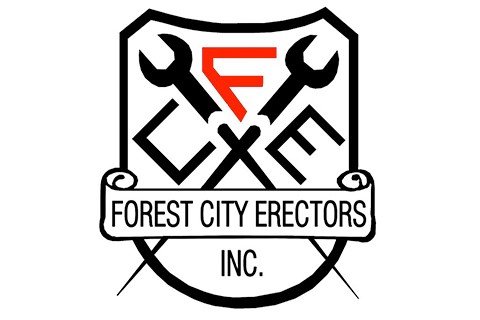 Company Description
Forest City Erectors, Inc. a Female Business Enterprise (FBE), SBE in Cuyahoga County and AISC Certified Erector.
The following are the areas of construction and maintenance programs that Forest City Erectors, Inc. has available to meet your construction needs.
We specialize in the following areas of erection and also have the capabilities to include materials on request.
1. Erect:
- Structural steel, pre-engineered buildings, joist systems, roofs and floor deck
and precast concrete including tilt-up panel projects.
2. Steel Mills:
-New installations and rebuilds including Blast Furnaces, Walking Beam Furnaces,
Annealing Furnaces, Basic Oxygen Furnaces and all phases of maintenance.
3. Automotive Plants:
- All phases of steel construction, equipment installation and maintenance.
4. Overhead Cranes and Monorail Systems:
- Installation, including runway and rail replacement and new installations.
5. Tower Cranes, Material and Man Hoists:
- Erection & Dismantling
6. Bridge Division:
Certified in the State of Ohio / ODOT for items related to steel erection and repair of steel members including heat straightening.
Categories
Contractors

Industrial

Steel

Metal Stairs & Railings
Miscellaneous Metals
Structural Steel Placing / Erection
Structural Steel Removal
To Top